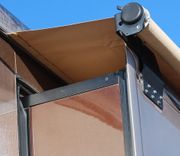 300 Center Drive Suite G#272, Superior, Colorado 80027, 888-875-3003

All prices plus tax, title, license, document fees, and finance charges if any.

Slide Room Awning Material Replacement

We use only Tough Cover Replacement Fabric! Heavier that OEM from A&E and Carefree, and Double Stitched seams.


Specifications:
Colors: white, off-white, gray, black, sand, champagne and green
Weight – 15oz, concentrated mesh, high tensile strength vinyl
Heavier is not always better - competitors 18oz COATED FABRIC LACKS the stability of this 15oz laminate.
UV and mildew resistant
All weather
Easily cleaned - we recommend using a soft brush or sponge with mild, lukewarm soap solution (such as liquid dishwashing soap) and rinse with clear water.
Highest tear and tensile strength vinyl on the market!
Here's a close up of the underside of our fabric next to A&E's fabric. Note the size of
A&E's mesh compared to this fabric....the more concentrated the mesh, the stronger the fabric.
We need to extend the slide room to replace the awning material. The material roof clip rail now needs to be drilled or bent open to allow the material to slide in and out of the rail. The material retainer is then removed and a lubricant is sprayed between the rail and the old material to ease it sliding. At pinning hole then needs to be drill, in some cases, through the outer cap and the inner tube. Now the awning spring tube to unwound a half turn at a time until you get to the other end of the fabric. For factory material this is always many turns for there is WAY to much fabric on the generic slide awnings. The tubes slot the holds the fabric now needs to be filed smooth to not damage new or catch the old fabric as it is slid out. The new fabric will be the exact length needed to wind the roll once when the pin in the spring is release and you end up with a much tighter fabric at the end
Living Slide Room Typical Total Cost: $270